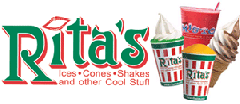 According to this article in the Philadelphia Inquirer, the new owners of Rita's have aggressive growth plans for the franchise chain.
Here's an excerpt:
Rita's wants 1,500 stores, each earning $500,000 a season
By HAROLD BRUBAKER
When Jim Rudolph and his brother, Bill, bought Rita's Water Ice in May 2005, they were stunned by the amount of attention they got.

"You have to remember, I'm not from Philadelphia," said Jim Rudolph, now Rita's chief executive officer. "I'm from Pittsburgh."

Rudolph didn't realize how popular Rita's was in the Philadelphia region, where it had been founded in 1984 by a firefighter trying to supplement his income.

But McKnight Capital Partners – the Rudolph brothers' investment firm – didn't buy it for the strong Philadelphia connection. They bought it to expand far beyond the Mid-Atlantic region.

"Who says this can't travel?" Rudolph retorts to skeptics who say that people outside the region have no idea what water ice is.

Rudolph – described by franchisees as passionate, tireless and intense – has lofty goals for Rita's: He wants to have 1,500 stores by 2010, up from 319 when he bought it, and $500,000 in average annual sales per store, up from $225,000 last year.

Full-time employment at Rita's Water Ice Franchise Co. L.L.C. has climbed from 42 at the time of the sale to 83 now. That does not count the thousands – mostly part-time workers – employed by franchisees. Last year's sales at Rita's outlets totaled $73.7 million, the company said. So far this year, they are up 5 percent, Rudolph said.

To meet the 2010 store goal, Rudolph has stepped up the pace of openings, going from 33 in 2005 to 68 last year. This year's goal is 135 stores. As of last week, 45 had been opened this year, giving the company 451 stores, Rudolph said.

There were about 20 things Rudolph said he was trying to do to meet his ambitious sales-per-store goal. First among them is a steady flow of new products, such as this year's Blendini, which contains bits of Oreos or Nilla Wafers.

"We want 'new' all the time," Rudolph said. He and franchisees said the Blendini was the first new Rita's product since 1998, with the exception of Rita's Squeezers launched in 2005 for supermarket sales.

Perhaps most significant is a change in Rita's culture, with Rudolph's leaving behind the model of Rita's as a part-time mom-and-pop business.

"We're trying to get a more engaged partner to be involved in this business," Rudolph said. Like other fast-growing franchisers, Rita's is signing more franchisees to multistore deals, including a five-store deal last week in Jacksonville, Fla.

That means Rita's is signing franchisees with more business experience and much more money than the typical franchisee of five years ago. At the same time, the company, which in April moved its headquarters from a cramped building in Bensalem to a 12,000-square-foot facility in a Trevose office park, is demanding more from existing franchisees.

"They've raised the bar in the franchise community to run better stores," said Mitchell Cove, who has been a Rita's franchisee for 18 seasons and has four stores in Northeast Philadelphia and three in Bucks County. "It's been a challenge, but they are kind of keeping us on our toes more."

Rudolph has increased the number of franchise service managers, who are constantly on the road visiting stores and working with franchisees. The increase – from seven, or one for every 46 stores in April 2005, to 13, or one for every 35 stores now – means each franchisee gets more attention… CONTINUE READING…
America's Voting at TOP NEW FRANCHISES. See who's winning.