The religion of real Texas barbecue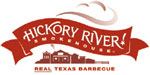 To understand why Hickory River Smokehouse is one of the Best Undiscovered Franchises in our solar system, you need to understand two things. The first is Barbecue. The second is Brad and Krista Bowman. Some people define Barbecue as a food, while others think of it as the act of cooking that food, while still others use the word to describe the metal box you use to burn burgers in your back yard. Those are true, but lesser meanings. What you need to know is that Barbecue is also a religion. There is no more passionate congregation than the devotees of Barbecue. And within the congregation there is no one more zealous about making and selling great Barbecue than the founders of Hickory River Smokehouse, Brad and Krista Bowman.
Barbecue, Bowman style
"Barbecue" is a uniquely American food, with many regional variations. Hickory River Smokehouse serves real Texas barbecue, in the tradition of the legendary barbecue pits that Brad visited and studied from one end of the Lone Star state to the other. The Bowmans created Hickory River Smokehouse to provide authentic, incredible Texas-style barbecue to the rest of the country, without compromising flavor or quality.
Come on in!
The simple, rustic Texas-style décor educates new converts about Barbecue with signs like "All of our meat is fully cooked. The 'red ring' visible in our meat signifies that you are eating the perfect Texas barbecue." It's a lively, family-friendly place where businessmen in suits, laborers in work boots, college professors, teenagers, homemakers and senior citizens all chow down with equal enthusiasm. (Barbecue is a religion open to all.) The cafeteria-style line moves quickly and efficiently, while generating interaction between guests and team members. It creates a lively and friendly atmosphere. It also eliminates the need for wait staff (from the owner's perspective, that means the hiring, paying and managing of wait staff).
The food is the point
At Hickory River Smokehouse, nothing's more important than the food. Each Hickory River Smokehouse location has an on-premise "smokehouse." Team members apply a special blend of seasonings (known as "dry rub") to the highest quality beef brisket, chicken, turkey and pork, slowly smoke them for hours over hickory-wood fires to create the most tender, flavorful meats possible, then serve them with their own Texas-style barbecue sauce. A wide array of delicious side items is prepared with the same concern for quality and flavor. Get it to go As if great food, captivating decor and a super system for serving aren't enough, the Hickory River Smokehouse concept is also suitable for both take-out and off-premise catering business, two of the most highly prized revenue centers in the restaurant industry. OK, are you getting hungry for this opportunity? Contact Brad Bowman right away. But be forewarned: you may gain a few pounds before you even get through training.