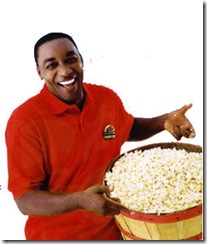 (FranchisePick.Com) Isiah Thomas has had a lifelong love affair with popcorn. It started as a boy, growing up in the housing projects of Chicago's poorest neighborhoods. Isiah's mother used to impart her strict life lessons to her sons around a big bowl of popcorn – sometimes sourced from the discarded bags of popcorn behind the Chicago stadium.
Isiah is now an investor in and partial namesake of the gourmet Dale & Thomas Popcorn, the NY-based gourmet popcorn franchise company that it will commence its franchise program in 2008.
Here's the franchise game plan, according to a release from Dale & Thomas' PR firm:
Dale and Thomas Popcorn Commences Franchising Program in 2008
ENGLEWOOD, N.J., Feb. 25 — Dale and Thomas Popcorn announced today that it is launching a new and innovative franchise program in select areas of the Northeast. This move signals a new phase of expansion for Dale and Thomas to further share its chef crafted, gourmet popcorn with its friends and loyal customers throughout the country. Through its network of company owned and operated popcorn centers, and after testing multiple formats, Dale and Thomas has quickly built the country's leading brand of gourmet popcorn. Led by industry veterans from both the food and retail industry, and backed by well known investment firms Goldman Sachs and Sun Capital Partners, Dale and Thomas has developed a formula for easily duplicating the experience while maintaining the highest quality popcorn and commitment to customer service.
________________________________________________
Visit FRANBEST: Unbiased franchise information, franchise interviews and detailed, searchable information on 400 franchise and and business opportunities.
Recommended Franchise reading:
FranBest Franchise Opportunities
________________________________________________
To facilitate the expansion of Dale and Thomas centers, the company has secured a relationship with Northboro Builders Inc., to design and build these new Dale and Thomas Popcorn centers. Northboro's stellar reputation and experience in the franchise industry, along with its history of delivering excellence and simplicity in "turnkey" design and building services, ensures the success of look and feel of each Dale and Thomas location.
"We are enthusiastic and eager to launch our new franchise program," says Terry Pritikin, Chief Retail Officer, of Dale and Thomas Popcorn. "Since opening our Times Square location three years ago, we've learned a great deal about our stores, our products, and our customers, not only through evaluating the service and merchandise in Dale and Thomas company owned stores, but through our relationship with our two existing franchise locations. We have taken the best from our research and have created an exciting new paradigm of franchising, with our ready-to-pop Franchise program."
Dale and Thomas will be taking franchise applications immediately and has planned rollouts of the new centers beginning in mid 2008.
Franchisees, customers & experts vote for
their favorite new franchises.
About Dale and Thomas
Dale and Thomas is a privately held company, which manufactures America's first line of chef crafted, gourmet popcorn products. The Englewood, New Jersey based snack food company sells through wholesale, retail, and direct channels. Dale and Thomas also has a wholesale line: Popcorn, Indiana(TM), a premium kettle corn line, sold at supermarkets, club stores and gourmet boutiques throughout the country. The company has also achieved a high level of recognition as it was selected by Oprah Magazine as one of her favorite things. The company's Chef Ed has appeared on the Today Show and The View, as well as other national television appearances. The company has also been featured on the CBS Early Show and the Big Idea with Donny Deutsch on CNBC. Currently there are eight Dale and Thomas company retail stores and two franchise locations, located in New York City, New Jersey, Pennsylvania, South Florida, Michigan, and Massachusetts. Dale and Thomas Popcorn is also available at www.daleandthomas.com and 1800-POPCORN.
SOURCE Dale and Thomas Popcorn
WHAT DO YOU THINK OF ISIAH THOMAS' POPCORN FRANCHISE? LEAVE A COMMENT BELOW.