Cool Treats. Hot Opportunity.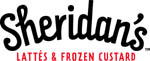 America's love affair with frozen treats made a great leap forward when, in 1919, a carnival stand on Coney Island served up the first frozen custard: a smooth, creamy, velvety confection that's fuller in flavor and about 25 degrees warmer than ice cream. Another advance came in the 1950s when regional frozen custard stands began making a thick frozen custard concoction called "Concretes," and loading them with hunks of candy, fruits, and nuts. A third great development came in 2003 when award-winning frozen custard aficionado Jim Sheridan decided to share the secrets of his extremely popular and highly efficient Sheridan's Frozen Custard operations with qualified opportunity seekers.
Sheridan's provides concrete benefits
I am no stranger to frozen treat franchises. I have consulted extensively and consumed even more extensively at gourmet ice cream, frozen yogurt, Italian ice and Gelato concepts throughout the country. But nothing could have prepared me for my first visit to a Sheridan's Frozen Custard unit one chilly evening in Kansas City. The line extended from the walk-up window well into the parking lot. The fact that customers huddled around outdoor heaters while eating their frozen custard and concretes did not seem strange to them at all. Sheridan's has built up a cult following in Kansas City, and after waiting in line and fighting for a place near the heater, I understood why. Their product is rich and creamy, made fresh all day long and is positively addictive.
Humor is Sheridan's secret ingredient
Sheridan's Frozen Custard does an artful job of maintaining the authentic appeal and visibility of the 50s-era classic walk-up or drive-in custard stand, while maintaining an innovative and lively approach to product development. Their Concretes sport such names as "Courtney's Dirt and Worms," (Fresh vanilla custard and Oreo™ cookies blended and topped with chocolate sprinkles and Gummy worms) and "Elvis' Pick—'Uh, Thank you very much!'" (Fresh vanilla custard and peanut butter blended with sliced bananas). Their Apple Pie and Pumpkin Pie Concretes are made with actual slices of pie mixed with frozen yogurt, topped with cinnamon sugar and whipped cream. The innovative menu also features sundaes cones, specialty beverages and coffees, and even hot dogs.
Fun can be serious business
I was impressed by both of the Sheridan's Frozen Custard management team (including founder Jim Sheridan himself) and the Sheridan's franchise owners. Both sides seem to share a real commitment to quality and exceptional service. The efficiency of the floor plan and unit design, and the exterior graphics and visibility were also a plus. If you're looking to discover a franchise with much to offer, you owe it to yourself to check out Sheridan's Frozen Custard. While I consider it one of the Best Undiscovered Franchises, it won't remain undiscovered long. In just a couple of short years, Sheridan's franchise units have opened in Kansas, Missouri, Texas, Illinois, Nebraska, Nevada, Washington, Tennessee, Ohio, and Georgia.