Do Well By Doing Good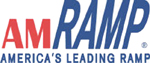 Sometimes rewarding franchise opportunities remain undiscovered because their appeal is hidden in plain sight. Take American Ramp Systems, for instance. I assumed they were in the "ramp" business: not exactly the sexiest of franchise concepts. But after receiving several calls from the persistent and earnest Ronn Dmitrik, I agreed to take a closer look. I soon realized I had overlooked a very compelling and undiscovered franchise opportunity. It turns out that ARS franchise owners are not simply in the ramp business. They are truly in the business of helping people in need, of removing the barriers that keep them from living life to the fullest. By helping others, ARS franchisees are achieving both financial and personal rewards for themselves.
Removing barriers, fulfilling dreams
Over 16 million Americans rely on wheelchairs or other devices to move from place to place, with increasing numbers of our aging population adding to that number every day. Some of these Americans are temporarily non-ambulatory, recovering from accidents, surgeries or sickness. Others will permanently rely on wheelchairs and other devices. Many of these individuals find the homes and buildings they once navigated with ease suddenly filled with insurmountable challenges and hostile barriers. Until a few short years ago, the available options consisted of permanent wood or concrete ramps that were logistically daunting and often economically infeasible.
An innovative, patented solution
American Ramp Founder Julian Gordon decided to change all that. An aeronautical engineer by training, Gordon devised and patented an innovative, low-cost modular metal ramp system that could be used for residential, commercial or municipal applications on either a temporary or permanent basis. After developing and refining the American Ramp Systems marketing, sales and installation systems, Gordon decided to make his system available to quality franchise owners. Today, there are more than 20 American Ramp Systems franchisees providing greatly needed ramp systems and rentals to individuals, groups and institutions in their communities.
Make a living. Make a difference.
American Ramp Systems franchise owners meet the needs of the fastest-growing demographic group in America: those 85 years and older. It's estimated that by 2010, over 20% of the population will be members of this group. By offering both rental and purchase options, American Ramp Systems franchise owners also meet the needs for temporary and event-related ramps. ARS rentals enabled actor Christopher Reeve to reach the stage during his promotional tour, has made it possible for disabled veterans to visit the traveling Vietnam War Memorial, for students to accept their Harvard diplomas and for countless grandparents to spend holidays visiting their children and grandchildren. If you're a people-oriented person looking for an opportunity to not only make a living, but to make a difference, the American Ramp Systems franchise is one you should look into.