This deli concept is on a roll!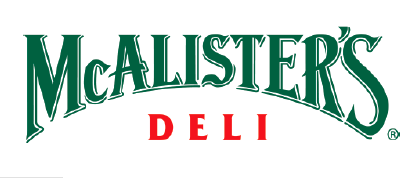 In the movie "Steel Magnolias," the character played by Dolly Parton affectionately refers to "sweet tea…house wine of the South." At McAlister's Deli, founded in Oxford, Mississippi, the sweet tea is legendary, even for a town in the Deep South. That's because the tea, like every other item on the menu at McAlister's, is prepared with a passion to do everything first-rate.
To say that the McAlister's Deli approach is working is an understatement. McAlister's has maintained strong yearly growth, and now boasts more than 200 units, both franchisedand corporate owned, in 19 states.
The first McAlister's Deli was opened in a converted gas station in 1989. The principle behind concept was simple—provide fast, personal service and great food. From the start, customers loved the delicious, hearty deli sandwiches, freshly prepared salads and over-sized stuffed potatoes served quickly with a side of Southern charm.
McAlister's Deli helped pioneer the "quick-casual" format. Every phase of the operation has been carefully planned to enhance the customer's experience and create efficiency. Guests order at the front counter, receive drinks and appetizers, then select a table. Orders are brought to the table. The menu is developed so that a maximum number of items can be prepared from a limited selection of ingredients. There are no fryers, no mixers and no grills.
McAlister's is all about the food. Presented on huge blackboards, McAlister's offers over 100 menu items.There are over two dozen madeto-order sandwich options featuring regional favorites like the New Orleans Muffaletta, the signature McAlister's Club and the popular Memphian sandwich. A variety of fresh salads addresses the demand for lighter,
healthier fare and the enormous overstuffed potatoes feature creative variations including the Spud Max, weighing in at a hefty two pounds.
The McAlister's team leaves nothing to chance, and the same attention to planning and detail is evident in their franchise support. Franchisees receive extensive classroom and hands-on training. McAlister's will guide you through design, construction and theopening of your restaurant and will be there for you with continuing support, product development, workshops and research.
McAlister's Deli franchisees receive a wealth of high-quality marketing materials, in-store promotional programs, catering programs, public relations strategies and much more. McAlister's franchise program has been designed to help ambitious, determined franchise owners reach the full potential in their markets.
McAlister's Deli's strong franchise growth has been the result of its conscious recruitment of experienced multiunit foodservice operators as franchise owners. Those with experience can best appreciate how McAlister's Deli has struck a great balance between meeting the needs of increasingly demanding consumers, and the needs of those who own and operate the franchise units. It's that balance that's made McAlister's Deli one of the fastest growing foodservice concepts in the nation.