A bright opportunity!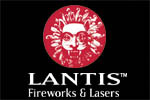 Talk about a booming business! Lantis Fireworks and Lasers is one of the most unique franchise opportunities available today. If you're good at selling and want a business with a real point of difference, speak to David Macklin and the Lantis franchise team. What makes Lantis Fireworks and Lasers one of the Best Undiscovered Franchises in America? They're perfectly positioned at the convergence of two trends: the need for increasingly dazzling pyrotechnic and special effects-based presentations, and the technological developments making them possible.Better each year
Whether it's for a trade show, the opening of a mall, a wedding or a 4th of July presentation, event producers share one overriding objective: to create something better and brighter than anything people have seen before. Awe-inspiring openings. Pulse-pounding finales. Events that outshine the competition and leave audiences with impressions they'll never forget. For years, event producers have relied on Lantis Fireworks & Lasers to make such shows a reality. Lantis is one of the nation's leading providers of state-of-the-art fireworks, dazzling laser effects, and other high-tech excitement.
That's entertainment
As a Lantis Fireworks and Lasers franchise owner, you'll be in the corporate, municipal and personal event entertainment business. Prospective clients are organizers of community celebrations, fairs and festivals…sports events, trade shows, corporate meetings, weddings and anniversary parties. No experience is necessary. You'll be trained in the design and execution of digitally choreographed displays that feature lasers, custom lighting effects, water screen projection, and music, plus indoor and outdoor fireworks. You'll receive ongoing assistance in developing relationships with suppliers, artists, pyrotechnicians and stagehands, as well as in designing and producing large or unique shows.
Learn from the best
Ken Lantis is a respected industry leader who grew up in the fireworks business. He spent eight years in China, where he was a partner in a fireworks manufacturing and exporting business prior to founding Lantis Fireworks and Lasers. David Macklin, from Brisbane, Australia, has decades of experience in the industry, having managed one of Australia's leading manufacturers and distributors of high-tech and specialty fireworks. Ken and David developed the Lantis Pyrotechnics School, where franchise owners are trained in safety, artistry, and technical excellence. Instructors include licensed pyrotechnicians with hundreds of shows to their credit. Franchise owners gain hands-on experience with the choreographic possibilities offered by a breathtaking variety of the world's finest shells and the latest computer-controlled firing systems.
Ready for explosive growth?
What an appealing opportunity for those who would rather not sit behind a desk, who like selling and presenting a unique service to diverse customers, and who like making things go BOOM. If that sounds like you, give David Macklin a call today to find out more.