(FranchiseBest.com)  In an advertorial-like interview on Franchising.Com, PIRTEK CEO Kim Gubera claims she is PIRTEK's "Chief Motivator."
Gubera states:
"…if I can look myself in the mirror each day and know that I have acted with integrity, that I have treated all people well, and that the brand is achieving its goals, that is success."
In practice, some may contend the Kim Gubera is more like the "Chief Disparager."
Kim  Gubera  Allegedly  Fails  to  Comply  With  Terms  of  $500,000  Settlement  Agreement

After PIRTEK USA's unceremonious ousting of one of its top multi-unit franchisees, the two parties entered mediation to resove their fiery dispute.
PIRTEK USA agreed to pay the celebrated, award-winning franchisee $300,000 cash and forgive approximately $153,000 owed for purchases.
PIRTEK USA also agreed to waive the non-compete provisions of their franchise agreement and allow Jim Lager to operate as a direct competitor.
Both sides agreed to disassociate from the other online and in social media.
Lager complied by removing his critical blog posts, and proceeded to build his successful Texas Hose Pro business in the Dallas Market.
PIRTEK USA, under Kim Gubera, inexplicably refused to remove Jim Lager's name, likeness and success story from the Internet, including those hosted on PIRTEK USA's own servers.
Kim  Gubera  Resorts  to  Disparagement  of  Former  Top  Franchisee
According to the PIRTEK Proposed Final Arbitration Award drafted by PIRTEK attorney Michael Joblove, Kim Gubera testified at a private arbitration hearing that "given Lager's character, including his growing and use of marijuana, and his arrest for domestic abuse or battery, PIRTEK did not want there to be any association between PIRTEK and Respondents."
Gubera left out that the abuse charges were without merit and almost immediately dropped.
She failed to provide any substantiation to her false allegations that PIRTEK's former Rookie of the Year, Franchisee of the Year, 2x Mentor of the Year & High Sales Record Holder is a weed-smoking marijuana farmer… or why that's relevant information about a former franchisee.
And Ms. Gubera failed to explain why PIRTEK USA has made little-to-no effort to disassociate with Mr. Lager online, even 1.5 years after their settlement agreement appears to have required it.
PIRTEK  &  Kim  Gubera  Created  a  Competitor  They  Now  Want  to  Destroy
If PIRTEK USA and their attorney Michael Joblove are out to destroy the former franchisee who helped build the PIRTEK chain.
Joblove has requested a judgement that will shutter Lager's successful small business, lay-off 22 employees, bury him in more than $700,000 in debt (to be paid in 10 days), and prohibit him from accepting employment in his career field.
It seems that Michael Joblove, Kim Gubera, Glenn Duncan and arbitrator David Kaufmann all have a common goal of not only shutting down his competitive business, but crushing him personally.
If Kim Gubera can claim that she looks in the mirror each day and knows that she "has acted with integrity," and "treated all people well," maybe PIRTEK should look into what she's been smoking.
Related Reading on PIRTEK CEO Kim Gubera:
PIRTEK USA Letter to Kim Gubera, PIRTEK CEO
PIRTEK USA Glenn Duncan, Kim Gubera Letter re NASCAR, Franchise Marketing
PIRTEK USA CEO Kim Gubera Claim of No Closures in 2020 Questioned
Franchise Arbitrator David Kaufmann's Credibility on Trial After Kangaroo Court Hearing
____________________________________________________________________________________________________________________________________________________
PIRTEK's Continued Misuse of Jim Lager's Name, Likeness & Success Story 2/6/22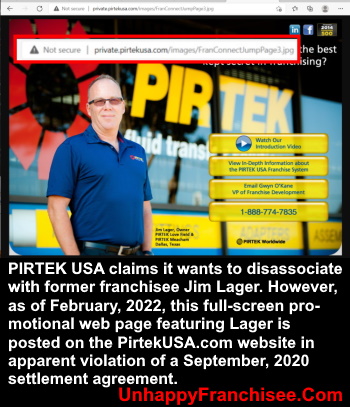 This full page image of Jim Lager promotes the PIRTEK franchise is publicly viewable and easily found in search engine results.
It is posted to Pirtek's own PIRTEKUSA.com website and web server.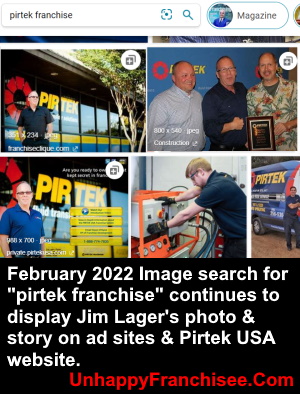 Google and Bing image searches are still populated with PIRTEK franchise promotions featuring Jim Lager. Of the three images above, one resides on  the PIRTEKUSA.com website, one in a paid ad controlled by PIRTEK and the third on an industry  site that would likely remove it upon request from  PIRTEK.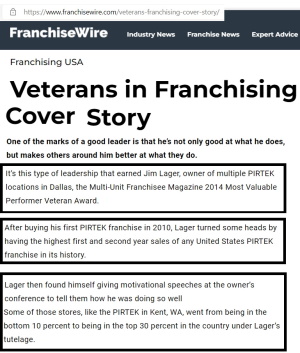 PIRTEK has failed to remove its press releases  featuring Jim Lager's success story even from Press release sites it has its own account sign-in, like Thomas.Net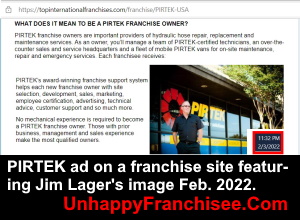 PIRTEK continues to feature Jim Lager's likeness in its paid ads on franchise portals like this one on  TopInternationalFranchises.Com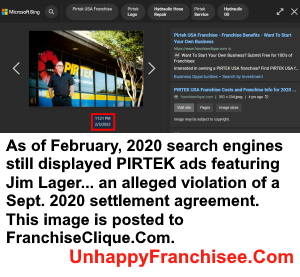 PIRTEK continues to exploit Jim Lager's likeness on other ad portals, like FranchiseClique.com, which also appear in image search engines.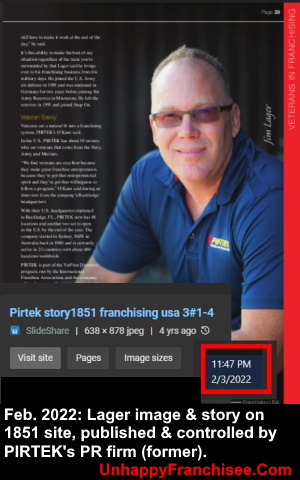 Jim Lager's success, mentorship of other franchisees & military service still appears on the fake news web
site 1851 Magazine, published and controlled by PIRTEK's former PR agency.
Its publisher Nick Powills has said he'd remove content if PIRTEK requested it.  They obviously  haven't.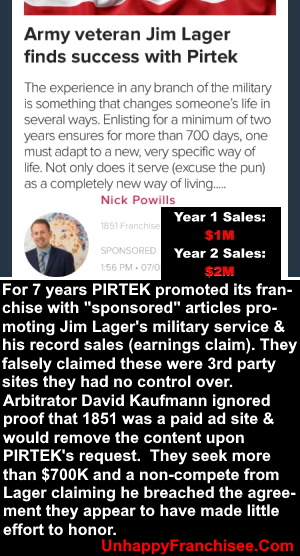 Jim Lager's own comments on LinkedIn prompted removal with the embedded illegal earnings claim planted and maintained by PIRTEK for 7 years. PIRTEK USA used this fake news article to  communicate Jim Lager's record 1st & 2nd year sales despite claiming, in official documents, that they do not disclose past or projected earnings information.
Also read:
David Kaufmann Arbitration Leaks Appear to Expose Blatant Franchisor Bias
King David Kaufmann Franchise Arbitration Call Leaked! (Parody)
Franchise Discussion, Documents,
Links: NASAA Proposed S.O.P.
Mediator David Kaufmann Ethics Accusations
Does U.S. Army Veteran Jim Lager Recommend the PIRTEK Franchise?
Is PIRTEK USA Racist? Or Just Really, Really White?
WHAT DO YOU THINK?  ARE YOU FAMILIAR WITH THE ARBITRATION PROCESS?   WHAT WAS YOUR EXPERIENCE? PLEASE SHARE YOUR OPINION BELOW OR EMAIL US AT UNHAPPYFRANCHISEE [at] GMAIL [dot] COM
We welcome comments and clarification from David Kaufmann, Michael Joblove, PIRTEK USA as well as the franchise regulators of NASAA.
NOTE:  FranBest.Com provides an open invitation to all individuals and companies discussed, mentioned or involved with our posts.  We invite you to provide corrections, clarifications, rebuttals or alternative points-of-view in the comments and/or by emailing us at UnhappyFranchisee [at] Gmail [dot] Com.  We welcome all respectful opinions and value open, productive discussion.  We also respect the protected right of anonymous speech and assure the confidentiality of our sources and those who wish to contribute anonymously.  Threats and bullying will not be tolerated (especially when directed at us).
Tags:  PIRTEK CEO Kim Gubera, Kim Gubera, PIRTEK USA, Michael Joblove, Genovese Joblove & Battista, David Kaufmann, Kaufmann Gildin & Robbins, franchise lawyers, franchise law, franchise arbitration, franchise mediation