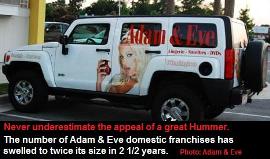 Not surprisingly, the Adam & Eve erotica franchise chain seems to be quite adept at the art of reproduction.
According to the company, Adam & Eve Stores (the retail division of adult industry giant Adam & Eve) has doubled its number of franchise stores in the past two years.
Started in 1999 with a small number of corporate stores, Adam & Eve soon realized it could reach a much broader market by expanding via franchising. Today, 27 Adam & Eve retail stores are open from coast to coast in nine states, supplying women and couples with "the best selections of quality romance, lingerie and novelty items, as well as DVDs, available."
Jason Hoke, General Manager of the Adam & Eve Retail Division, explains: "Adam & Eve started in 1969 as a condoms-by-mail service. From there, President Phil Harvey's entrepreneurial spirit created the multi-million dollar adult empire that Adam & Eve is now known for. We are pleased to provide this unique franchising opportunity to similar visionaries today."
With 27 current stores and agreements for 70 more, Adam & Eve Stores are growing at a record pace. "We plan to open an additional 12 stores in 2008," says Hoke. "I'd like to see 50 stores open by the end of 2009."
"Plenty of quality territories are yet available," Hoke continues. "Prime markets such as Los Angeles and New York City are still open for the right franchisee."
A tough economy and rising fuel prices don't seem to be keeping Adam & Eve stores from being fruitful and multiplying. Perhaps people are taking their vacations – and keeping their Hummers – closer to home these days.

WHAT DO YOU THINK? LEAVE A COMMENT.