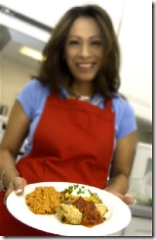 Have you ever hear of Super Suppers, Dream Dinners, or Dinner's Ready?
What about My Girlfriend's Kitchen, Supper Thyme USA, or Pass your Plate?
They're called Meal Prep or Meal Assembly franchises, and here's how they work.
According to the Wall Street Journal :
The meal-preparation business combines old-fashioned cooking with contemporary socializing. Groups of customers gather at workstations where they measure precut meats, fish and vegetables into freezer containers according to the company's recipes posted nearby… Apron-clad workers answer the questions from cooks like 'What can I use instead of soy sauce?' and wipe down counters and wash dishes.
The Buffalo Biz Journal explains that busy professionals can assemble gourmet meals in bulk and bring them home in pans to be frozen until meal time:
…their premise is the same: Customers sign up for a session and order their meals online; come in and prepare them; and take the meals home in freezer-friendly containers. Workers clean up when the customers are finished.
It's a new idea that hundreds of entrepreneurs and franchisees are betting their savings will be the next big thing. The WSJ article estimated that there'd be more than 1,100 meal-preparation kitchens in the U.S. by the end of 2006, doing about $270 million in sales.
About 40% of those stores are independent businesses, while the rest are franchised. Meal Prep franchisors generally charge a franchise fee of about $35,000, plus a royalty of 4% to 6% of gross sales and a 1% or 2% ad fee. The total cost of opening a meal preparation franchise ranges from $120,000 to $300,000, depending on size and location.
Here are some of the largest of the meal assembly franchise chains, according to the Easy Meal Prep Association:
Super Suppers. Fort Worth, Texas. (212 stores),
Dream Dinners. Snohomish, Washington. (210 stores),
Dinners Ready. Mountlake Terrace, Washington. (41 stores),
My Girlfriends Kitchen Salt Lake City (Fort Union), Utah. (40 stores),
Supper Thyme USA Omaha (NW), Nebraska (35 stores),
Lets Dish!. Eden Prarie, Minnesota. (31 stores),
Meal Makers. Saint Peters, Missouri. (31 stores),
Dinner MyWay. Sacramento, California. (25 stores),
Entree Vous. Lexington, Kentucky. (23 stores),
Supper Solutions. Westminster, Colorado. (22 stores),
Entrees Made Easy. Mesa, Arizona. (18 stores),
Pass Your Plate. Edmond, Oklahoma. (17 stores),
Lets Eat!. Tampa (South), Florida. (15 stores),
Dinners Done Right. Federal Way, Washington. (13 stores),
Main Dish Kitchen. Grand Rapids, Michigan. (10 stores),
Simply Done Dinners. Parma, Ohio. (4 stores),
Social Suppers. Kansas City / North, Missouri. (15 stores),
Sociale Gourmet. Eagan, Minnesota. (10 stores).
____________________________________________
TopNewFranchises.Com: America's Next Top… Franchise
Franchise Marketing: Franchise Marketing News & Tips
Franchise & Marketing Newsletters: Affordable. Stylish. Free.