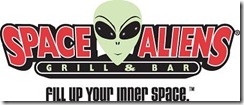 (FranBest.com)  Looking for a franchise opportunity that's "out of this world"?  Then Space Aliens Grill & Bar may be the franchise for you.
However, if that corny "out of this world" double entendre made you flinch, turn back now.  There are dangerous puns ahead, Will Robinson.
According to the Space Alien Grill & Bar restaurant website:
There is intelligent life down here and they know where to eat, and that's because Space Aliens® Grill & Bar channels in children and adults alike with its alien-induced aura and out-of-this-world food.

Each of our restaurants has been created to beam up the imaginations of the earthlings that walk into our world. The décor features a 30-foot-high domed ceiling that displays a view of outer space. Plus, we have a force field of alien sculptures in the dining room, bar and arcade, showcasing a variety of extraterrestrial settings and distinct personalities.

And the food… earthly explorers can enjoy a menu ranging from Martian Munchies™ to Alien Burgers™. It's enough food to fuel them up for their next endeavor.
Then Intergalactic Alien population (pictured right) is a virtually untapped market.  According to Space Aliens Bar & Grill franchise section, the six unit chain (with franchise locations in MN and ND) is a great franchise opportunity as well:
Are You Ready To Start An Out-Of-This-World Franchise?
Now is the perfect time to franchise with Space Aliens® Grill & Bar. With a unique atmosphere, tasty food and galactic fun, no other restaurant franchise offers this kind of flexibility in the market. The outer space concept is fresh and appeals to all age demographics, and research has shown that demand is high for this unique style of dining entertainment.

Through extensive experience, growth and success, we've learned that each franchise will be a critical element and vital asset in the development and growth of Space Aliens® Grill & Bar. We guarantee that franchise entrepreneurs whom we select will be expertly prepared to open and operate in their chosen location. As the franchisor, we will be totally dedicated to helping you succeed as a franchise.

The philosophy behind these three Bismarck men is simple. Mort, Gene and Dave believe in serving quality food and beverages at a fair price with attentive service in a clean, fun environment. Through their vision, development and leadership of Space Aliens® Grill & Bar, their restaurant flourishes and is poised for significant growth. Are you ready to become part of that growth?
One word of warning regarding illegal alien activity:  While the franchise section of their website boasts about their advertising agency and marketing materials, the agency (and company) doesn't seem to be familiar with franchise laws regarding earnings claims.  Their materials include prohibited sales figures, constituting an earnings claim.
[Photo credits:  Space Aliens Grill & Bar]
__________________________
Visit FRANBEST's: Unbiased franchise information, franchise interviews and detailed, searchable information on 400 franchise and business opportunities.
.
Franchisees, customers & experts vote for their favorite new franchises at Top New Franchise: Who's hot. Who's not.