From a recent press release by G & L Chili Dogs, a "Best Undiscovered Franchise" based in Muskegon, MI:
"After months of hard work Scott and Robin Smith successfully open their G&L Franchise in Spring Lake, Michigan on November 27th, 2006. The weather was

slightly overcast and grey but you couldn't tell from the looks of things inside their new store. Staff were bustling about performing last minute tasks, gifts and cards were arriving from friends and area well wishers and Scott Smith (whether he'd admit it or not) had a slight grin on his face while hustling to complete a never ending task list.
Peter Johnson (President of G&L Franchise) was onsite assisting Scott and his team. After Peter finished hanging the electronic "Open" sign in the front breezeway just minutes before opening Scott knew the time had come. And in the midst of everything that goes into opening a restaurant Scott walked into the breezeway and turned the "Open" sign on.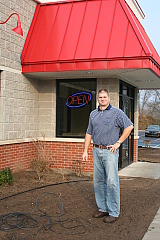 The Smith's first customer was a friend of the family who sat at the first counter seat and appropriately ordered the amazing Chili Dog Special. The first of many to come. And they did. As noon drew closer so did the customers. With a full restaurant, a line at the drive-thru window and plenty of dirty dishes Scott and his staff were busy.
Spring Lakes lunch proved to be a good start, but dinner proved to be even better. With an even larger turn out at dinner Scott's second shift of employees worked harder than ever and the night ended in success.
[Pictured, Left, G&L Franchisee Scott Smith]
'G&L is extremely excited for Scott and Robin.", stated Peter Johnson (President of G&L Franchise). "They have devoted an immense amount of time and effort preparing for this day. From G&L and all of it's employees – we wish them all the best with their new G&L franchise.'"
FranBest congratulates Scott & Robin Smith on their franchise opening, and wishes them much success in their new venture.
For more information on G&L Chili Dogs, visit the G&L company website.