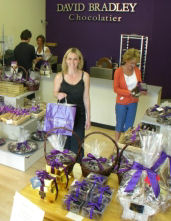 David Bradley Chocolatier Successfully Completes the Sale of its First NJ Chocolate Franchise
Family owned David Bradley Chocolatier successfully completed the sale of the first of ten new franchises planned to open in NJ.
The first David Bradley Chocolatier franchisee, Celeste Kopyscianki, plans to open one or two more locations over the next several years. Kopyscianki has been a David Bradley Chocolatier customer for over 10 years.
For David Bradley Chocolatier, this has been a 25 year family journey. The company was founded over 25 years ago by Bob and Marcy Hicks. From the beginning, they wanted to create chocolates that were made from fresh premium ingredients. The couples sons and daughter, Brad, David and Christine, grew up helping in all areas of the family business. In 2002, David Bradley Chocolatier opened its first two retail stores with three more locations opening the following year. "We are at the point now, where we are prepared to expand the business through franchising," stated Christine O'Brian, Vice President of Production.
David Bradley Chocolatier is presently working on potential franchise locations in Pittsburgh, PA and Myrtle Beach, NC. President David Hicks expects the company to open between 5 and 10 new franchises this year, mostly in the northeast.
David Bradley Chocolatier manufactures premium gourmet chocolates and currently operates five company owned retail stores and one franchise located in NJ and PA. The product line includes fresh chocolate strawberries, chocolate truffles made with fresh cream, handmade fudge, chocolate pretzels, handmade buttercreams, assorted chocolate nut clusters, chocolate gift baskets and many other chocolate gift items.
The total investment required to obtain a David Bradley Chocolatier franchise and open a retail store is between $85,000 and $125,000, including a $25,000 franchise fee. There is an ongoing 2% marketing contribution. There is no royalty fee; however, it is the website states that franchisees will purchase 95% of their inventory from the company's plant in Windsor. It is important that you find out what pricing you will be receiving, and can be assured of, in the future. There have been many lawsuits related to franchisors who mark up products they sell to their franchisees.
Visit the David Bradley Chocolatier website for more information.