The FTC intended The Franchise Rule to ensure that prospective franchise owners have access to information, the experiences and the opinions of former franchise owners.  Today, thanks to NDAS, mandatory arbitration & a lack of federal franchising oversight, franchisors can create provide Kumbaya-like images of their franchisee-franchisor relationship while franchisees are prohibited from sharing their opinions… or the truth.
(Franbest.Com)  PIRTEK USA is hyping their milestone of having doubled its number of franchise locations since the Australian corporate parent took over in 2015.
Their press release states:
A growing customer base has prompted PIRTEK franchisees, Tom and Julie Fechter to open their second hydraulic and industrial hose service and supply center in Wisconsin. The new store, PIRTEK Racine, marks a significant milestone. It is the 100th franchise to sign on with PIRTEK USA in the US. The company announced the signing of the franchise agreement for Tom and Julie's store in December [2020]. This achieved a goal established by the brand to reach 100 franchises by the end of 2020.

The Fechters' flagship store, PIRTEK Menomonee Falls, was also notable for PIRTEK USA as it was their 50th US location.
The previous owner of PIRTEK USA grew the system to 50 locations over a span of about 18 years.
Glenn Duncan accelerated that growth, opening the next 50 locations in just 5 years.
PIRTEK's  Glenn  Duncan  Doesn't  Want  to  [Appear to]  Grow Too Fast
In 2015, Duncan claimed he wanted to be careful not to grow too fast.  In a Financial Review article, Glenn Duncan stated:
"I think the biggest challenge is not letting it run away on us, and getting clouded by expansion and the blue sky that's out there," he says.

It's just keeping the reins on the growth, because when we set up a centre, we don't want it to fail…"
One thing is for certain:  Glenn Duncan & CEO Kim Gubera are dedicated to creating the impression that their relationship with franchisees is a conflict-free love fest… and that they've had NO failures… even though they have.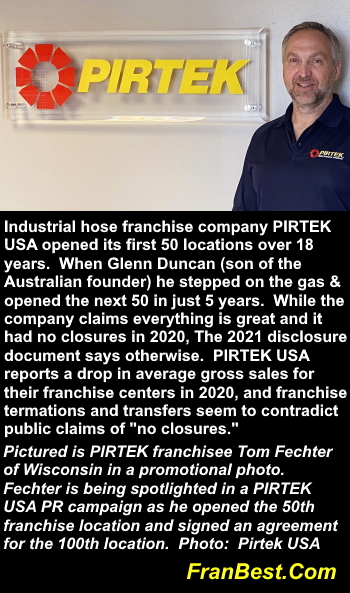 How  PIRTEK  USA  –  Like  Other  Franchisors  –  Hide  Complaints  from  Prospective Franchisees
The PIRTEK USA franchise agreement requires that all franchisee disputes be resolved through binding arbitration via the AAA in Orlando, Florida using an arbitrator with at least 5 years of franchise law experience.  Arbitration provides not only a strong legal advantage for the franchisor, it is a private proceeding that helps keep the nature of the dispute and allegations away from the public and prospective franchisees.
Additionally, the PIRTEK USA FDD tells prospective franchisees:
Franchisees have signed confidentiality clauses during the last three fiscal years. In some instances, current and former franchisees sign provisions restricting their ability to speak openly about their experience with Pirtek USA, LLC.

You may wish to speak with current and former franchisees, but be aware that not all such franchisees will be able to communicate with you.
The PIRTEK USA FDD also states:
Exhibit 4 lists the name, city and state, and business telephone number (or, if unknown, the last known home telephone number)  of every franchisee who had an outlet terminated, cancelled, not renewed, or otherwise voluntarily or involuntarily ceased to do business under a  Franchise Agreement during the most recently completed fiscal year, or who has not communicated with us within 10 weeks of the effective date of the Disclosure Document.
As you'll see, this latter statement does not appear to be true.
While CEO Kim Gubera publicly describes the PIRTEK USA franchise system as a virtual lovefest with ZERO franchise closures in 2020, we have reason to suspect that they've failed to disclose material facts in order to further that image.
Kim  Gubera's  portrayal  of  PIRTEK  USA's  COVID  support
In November, 2020, Franchise Times featured PIRTEK USA CEO Kim Gubera in a glowing tribute titled "Education, Mentors Fueled Rise of PIRTEK CEO."
Kim Gubera painted an old-fashioned, Pollyanna picture of herself and the PIRTEK support team stopping at nothing to make the PIRTEK franchisees feel loved and listened to.
Kim Gubera said:
When COVID-19 hit, "We called every one of our franchise owners every single day for eight weeks. We made 2,200 phone calls. During that time, people wanted to talk to people…"

…fortunately we have not had any closures"…
Anonymous sources confirm that, yes, PIRTEK USA regional managers, operations managers and even Kim Gubera called their centers daily.
And they claim that, at first, it was helpful.  There was good information imparted about resources and aid available.
However, after a while the daily calls with the same questions and nothing new to report got routine, and then annoying. According to one anonymous source:
After a while it seemed like someone from above had mandated it so the franchise sales people could say 'See how caring we are?  We called every day for 8 weeks!
And another:
With PUSA, sooner or later it always comes back to selling more franchises.  That's the priority.
And what about Kim Gubera's claim that there were NO franchise closures in 2020?
"We  Have  Not  Had  Any  Closures…"  PIRTEK  CEO  Kim  Gubera
Leading franchise watchdog site UnhappyFranchisee.Com has called Gubera's claim into question in a new post:
PIRTEK USA CEO Kim Gubera Claim of No Closures in 2020 Questioned
What happened to PIRTEK Bronx & franchisee Asim Iqbal?
In Fall, 2019 PIRTEK issued press releases and a PR blitz heralding its first franchise location in New York.
As of January 8, 2020, franchisee Asim Iqbal's Bronx location was listed on the PIRTEK website.
By April 14, 2020 the only PIRTEK location in New York had been deleted from the list.
The press release was deleted from the website as well.
The 2021 PIRTEK FDD would list Asim Iqbal as having left the system during 2020.
It stated:  "Reason for Leaving: Voluntary abandonment"
Not a closure?  Voluntary abandonment?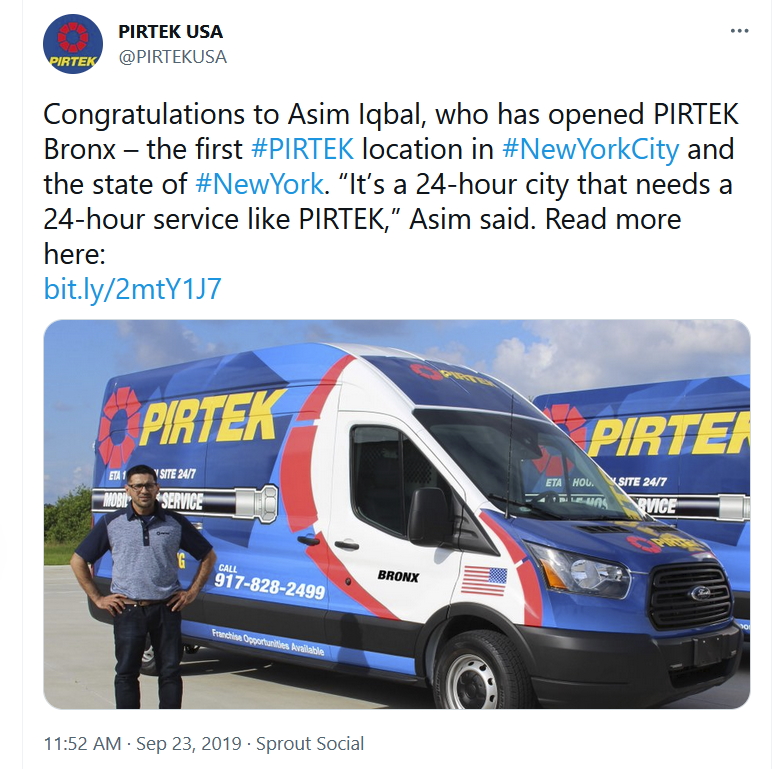 Follow Up Post Cites Possible Closures in California, Arizona, Texas & Virginia
In this follow-up post,
PIRTEK USA, Glenn Duncan Asked About 2020 Franchise Closures
UnhappyFranchisee.com questions PIRTEK Chairman Glenn Duncan regarding closures of the following locations:
Long Beach / Signal Hill, California (Franchisees Paul Martin & Marian Martin)
Palos Verde / Tucson, Arizona (Franchisees Jeff Ohstrom & Debra Ohstrom)
Dallas & Fort Worth (Meacham), Texas (Franchisee Jim Lager)
Bronx, New York, New York  (Franchisee Asim Iqbal)
Is  PIRTEK  Disclosing  Failed Franchisees as Required?
Unfortunately, sometimes prospective franchisees cannot rely on franchisor's representations – even those disclosed in the FDD – without their own detective work and independent due dilligence.
The Federal Trade Commission Franchise Rule Compliance guide states:
Item 20 of the amended Rule requires the disclosure of contact information for every franchisees who has had an outlet terminated, canceled, not renewed, or otherwise voluntarily or
involuntarily ceased to do business under the franchise agreement during the most recently completed fiscal year…
The FTC intended for prospective franchisees to communicate with recent franchisees who left the system.
In PIRTEK USA's case, contact information for these franchisees are not listed:
Asim Iqbal
Jeff Ohstrom & Debra Ohstrom
Paul Martin & Marian Martin
Perhaps that doesn't much matter, since "former franchisees sign provisions restricting their ability to speak openly about their experience with Pirtek USA, LLC" anyway.
So for the time being, prospective franchisees must be super sleuths… or hire one to do proper due diligence for them.