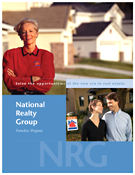 These are tough times for independent real estate agents.
In fact, real estate agents are getting pressure from every direction. MLS property listings, which were once under the exclusive control of real estate agents, are now widely available to a new breed of discount brokers and a variety of online resellers. Shrinking commissions, a huge crop of new agents and a down housing market have made it increasingly tough even for many seasoned real estate professionals.
[PICTURED: The National Realty Group franchise brochure.]
The National Realty Group franchise is offering the independent real estate professional a new way to compete. By joining the National Realty Group franchise system, real estate professionals will receive the systems, training and support to benefit from two new potential revenue centers: providing their own mortgage and (in some states) escrow services.
Traditionally, an agent would help a couple find their dream house and then hand them off to mortgage and escrow service providers for financing. With the NRG program, the franchisee would provide the real estate services, then also provide the mortgage and, when applicable, escro services. According to National Realty Group franchise founder Jeff Maas, it's a win-win situation for all involved: Home buyers get the convenience of a one-stop real estate resource, and the franchise owner and agent has two, sometimes three, potential revenue centers instead of one.
The National Realty Group franchise may also help even out the peaks and valleys so common in the real estate market. According to Maas, when the real estate sales side is down, the mortgage side often gets busier with mortgage refinancing.
At this time, the National Realty Group franchise is only being offered to real estate professionals in California and surrounding states. For more information about this and other top new franchise opportunities, visit the Top New Franchises blog at TopNewFranchises.Com.