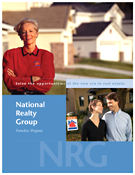 These are tough times for independent real estate agents.
In fact, real estate agents are getting pressure from every direction. MLS property listings, which were once under the exclusive control of real estate agents, are now widely available to a new breed of discount brokers and a variety of online resellers. Shrinking commissions, a huge crop of new agents and a down housing market have made it increasingly tough even for many seasoned real estate professionals.
[PICTURED: The National Realty Group franchise brochure.]
The National Realty Group franchise is offering the independent real estate professional a new way to compete. By joining the National Realty Group franchise system, real estate professionals will receive the systems, training and support to benefit from two new potential revenue centers: providing their own mortgage and (in some states) escrow services.
Traditionally, an agent would help a couple find their dream house and then hand them off to mortgage and escrow service providers for financing. With the NRG program, the franchisee would provide the real estate services, then also provide the mortgage and, when applicable, escro services. According to National Realty Group franchise founder Jeff Maas, it's a win-win situation for all involved: Home buyers get the convenience of a one-stop real estate resource, and the franchise owner and agent has two, sometimes three, potential revenue centers instead of one.
The National Realty Group franchise may also help even out the peaks and valleys so common in the real estate market. According to Maas, when the real estate sales side is down, the mortgage side often gets busier with mortgage refinancing.
At this time, the National Realty Group franchise is only being offered to real estate professionals in California and surrounding states. For more information about this and other top new franchise opportunities, visit the Top New Franchises blog at TopNewFranchises.Com.

Publish a local edition of "The Homesteader," the publication for new homeowners! This is a great work-from-home business opportunity for people with sales, marketing, publishing, or business experience!
WHO WE ARE
" The Homesteader" is a monthly newspaper, in publication since 1990, and is direct-mailed to new homeowners. Each issue includes articles of interest to newcomers, like home improvement projects, decorating tips, antiques, movie reviews, restaurant reviews, local travel, museums, and a community calendar. We help new homeowners "settle in" to their new community.
WHY DO BUSINESSES ADVERTISE IN "THE HOMESTEADER"?
Advertising in "The Homesteader" is a great value to local businesses. We reach their most valuable target market: new homeowners. Because we give the new homeowner a free subscription, they are exposed to our advertisers' ads repeatedly. And because we mail 5,000+ papers per month, the cost-per-contact is only a few cents per household, depending on the size of their ad. It's a great value!Businesses like to reach new homeowners because they have high income, are unfamiliar with local merchants, and have a need for many products and services as a new resident and a homeowner.We are offering a publishing opportunity to produce a local "Homesteader" in your market. You would run the operation locally, getting monthly articles from us, selling local ads, and working with a local printer and graphic artist to produce the paper each month. In addition to publishing a local edition, you would also offer related services to boost your profits and provide more services to your advertisers. Options include direct mail programs, inserts, labels, and coupons. There are a number of advertiser-feedback programs that we also recommend.

HOW IS EACH EDITION PUBLISHED?
Most of your content you will receive from us, the rest you will generate through local freelance writers (working with local writers is suggested but not required, as we provide plenty of monthly articles). As a local publisher, you are primarily responsible for advertising sales. You would hire a local printer, graphic artist, freelance writers, and other vendors to help you produce your paper and run your business. As the publisher, you would oversee their work, generate new sales, bill clients, and hire sales or telemarketing help, if desired. You may publish one edition of "The Homesteader" in a local territory, or you can run multiple editions and gain efficiencies in sales, marketing, graphic arts, and printing. Each territory should cover a population size of about 250,000 people, give or take 50,000. Each territory is the same price, but we can grant a longer time to develop additional territories, if needed.
WHAT ARE THE FEES AND COSTS?
Homesteader Enterprises, Inc. is offering local territories on very attractive terms. Buy your first territory for only $400 down, $3,000 after six months. The first six months are on a trial basis–if you do not like the business or are not successful, you can resign. The first three issues you publish are royalty-free! There is a 10% royalty on ads sold after your third issue published. You won't start publishing for two to four months from when you start the business. During that time, you set up your office, line up your vendors, and begin selling. Hopefully, when you are ready to begin publishing, you have a number of advertisers lined up for your first issue. (If you don't have enough, delay that first issue until you have more!) If advertising sales go well, you might break even or earn a small profit on your first issue. However, don't expect to draw a salary from the business for at least the first six months. The major investment during the first six months is your time. If you decide to hire sales or telemarketing help, you can get started on the road to success much more quickly…but there is added expense. How you approach this is up to you. It is not necessary to hire anyone to help you sell, but it is an option you should consider.
WHAT SUPPORT IS GIVEN?
We provide an extensive Training Manual and two days of classroom training in Concord, Massachusetts to get you started. There is no extra cost for this training, but you must pay your own travel and lodging expenses. Training CDs, email, and phone support are also included.We provide a monthly editorial package with 20-40 articles on average. These articles are posted on our website in a members-only section. Many articles have clip art or photos (which also are available on the website).