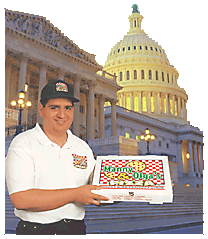 Maryland-based chain recognized for freshness, quality and value.
Silver Spring, MD – Manny & Olga's Pizza is the Baltimore/Washington D.C. area's best-kept secret no more. The popular franchise company – known for its freshly made, reasonably priced pizzas delivered into the wee hours – has been "discovered" by franchise industry veterans and recognized as one of the "Top 100 New Franchises" by Franchise Market, a national trade magazine that partners with the SBA, SCORE and Small Business Development Centers throughout the country.
The six-unit chain had caught the eye of Sean Kelly, a franchise industry veteran engaged by Franchise Market magazine to nominate new, high-potential companies that had recently begun offering franchises. Kelly, whose PA-based company IdeaFarm publishes a new-franchise scouting report called FranBest.Com, had worked with Manny & Olga's in the past, and nominated it for consideration.
According to Kelly, Manny & Olga's provides both the convenience today's time-starved

consumers need, and the higher quality, fresh and flavorful dishes they demand. Kelly is impressed with owner Bobby Athanasakis' ability to provide a wide variety of quality, fresh-dough pizzas as well as such Italian and Greek specialties such as Chicken Parmesan with Spaghetti, and Chicken Souvlaki on Pita Bread – with the convenience of home and office delivery. "Take-out and delivery are the fastest growing segments of the restaurant industry – and Manny & Olga's is well-positioned to meet the demand."
With three franchised and three company-owned locations, Bobby Athanasakis is hoping the exposure in Franchise Market will catch the eye of quality oriented prospective franchise owners in the Maryland, Virginia and Washington, D.C. markets, and beyond.

For more information, visit the company website at MannyandOlgas.com.
About Franchise Market Magazine. With a circulation of more than 200,000 per issue, and readership of 700,000, has a unique, targeted distribution through SCORE offices, 1000 Small Business Development Centers and 68 SBA offices located throughout the country reaching out to aspiring entrepreneurs… providing expert counsel and business growth advice. Additionally, Franchise Market Magazine is distributed through major franchise trade shows including The West Coast Franchise Expo, Franchise Expo South, and the National Franchise & Business Opportunity trade shows.
About FranBest.Com. FranBest.Com is a new informative weblog dedicated to the search for the most exciting new franchise opportunities, and to providing trustworthy guidance to entrepreneurs interested in learning more about franchising and franchise opportunities. It is operated by IdeaFarm, a leading franchise consultancy, and supported by members of the IdeaFarm alliance. Learn more at http://www.franbest.com and http://www.IdeaFarm.net.
About Manny & Olga's Pizza. Manny & Olga's offers freshly made pizzas, subs, salads, Italian and Greek specialties, priced affordably, delivered quickly. The Manny & Olga's Pizza franchise program provides qualified individuals with the systems, training, guidance and support to compete in the fastest growing segment in the restaurant industry: Delivery and take-out. For more information on Manny & Olga's franchise opportunities, call Bobby Athanasakis at 866-320-OLGA, or visit http://www.mannyandolgas.com.