Meeting the market need for affordable massage & facials.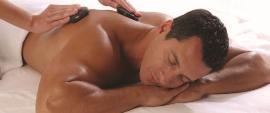 So how does Hand & Stone Massage & Facial Spa meet the growing demand for massage, spa and skin care services?
According to presenter and VP Bob McQuillan, the strategy is based on a simple premise: provide a wide range of top quality spa services – therapeutic massage, facials & waxing – at affordable prices and unmatched convenience.
Previous: Part 2: The Booming Market for Massage & Facials
Hand & Stone Massage & Facial Spa locations provide a varied menu of quality massage options, from Sports to Swedish to Pre-natal massage. The signature hot stone massage is Hand & Stone's ultimate massage experience. In a hot stone massage, heated river stones are skillfully used with massage strokes to add a unique and effective enhancement to the overall massage experience.
Facials and skin care are relatively new additions to the service offering. At Hand & Stone Massage & Facial Spas, certified aestheticians evaluate the condition of clients' skin and customize treatments for optimal results. Clients can experience a dramatic difference in the quality and texture of their skin after just one visit, and can return for a variety of facials to accommodate needs ranging from basic skin maintenance to acne, rosacea, sun damage, scarring or aging.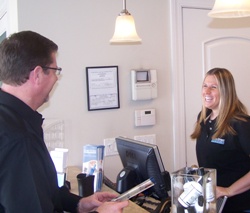 The pricing and scheduling system for the Hand & Stone Massage & Facial Spa is designed to provide convenience and value to the spa members and operational simplicity and recurring, predictable revenue flow for franchise owners.
Once new clients experience Hand & Stone through an attractive, introductory offer, they are encouraged to join the membership program, allowing clients to enjoy a 35% savings on spa service packages each month.
While scheduling in advance is recommended, members are welcome to visit on a walk-in basis to better accommodate their busy schedules and to increase their visit frequency. During the Discovery Day presentation, it was clear that there are many strategies and elements built into the system that simultaneously enhanced the health of Hand & Stone Spa members and the financial health of each individual franchise.
In addition, the marketing team has done a great job developing the Hand & Stone gift card program and using industry exclusive promotions like Hand and Stone's new Spa Party concept to drive new customer traffic.
Next: Part 4: The Powerhouse Team Behind Hand & Stone Massage