(Franchise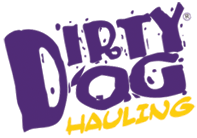 Pick.Com) It's a dirty job but somebody had to do it. Dirty Dog Hauling, the Harrisburg, PA start-up franchise, dazzled the judges and cleaned up at a recent business plan competition. is already making its presence known by bringing home two national awards.
Delaware State University's College of Business participated in the Eighth Annual OFC Venture Challenge Business Plan Competition for Historically Black Colleges and Universities (HBCUs) offering MBA/Graduate Business Degrees, in Atlanta, Georgia on April 17-20, 2008.
The College of Business' team presented Dirty Dog Franchising Group, LLC (DDFG), co-founded by Leland Nelson and based in Harrisburg, PA, which markets and awards the proven Dirty Dog Hauling franchise system to qualified individuals or entities that are ready to capitalize on a high demand and fragmented industry.
The team members included:
· Leland Nelson, Founder and President of Dirty Dog Franchising, Boubacar Thiam, Luther Wynder, Ganesh Iyer, and advisors Young Kwak and Lisa Dunning.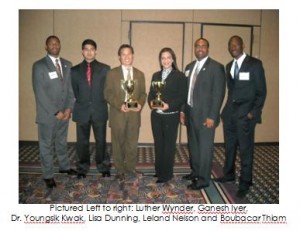 During the competition, Team Dirty Dog competed among 20 HBCUs, and was selected as the first place winner of Track 3 to advance to the Final Rounds. For the finals, six (6) teams competed and Delaware State University placed 2nd and also received the "Outstanding Presentation" award of the competition. Team members received a total of $5,000 for placing 2nd in this competition.
Leland Nelson stated that this was a great opportunity to compare the Dirty Dog Franchising system and concept to other high-tech, low-tech and no-tech companies in the competition. "Attendees now have a better appreciation for professional junk removal and franchising". "In addition, the name Dirty Dog continues to be recognized as a great brand which is critical for continual growth."
About the Dirty Dog Hauling Franchise Opportunity
Dirty Dog Hauling is receiving inquiries from individuals interested in learning more about learning about the benefits of joining the Dirty Dog franchise family.
For more information on Dirty Dog Hauling, please visit dirtydoghauling.com and for franchise opportunities visit www.franchiseadirtydog.com. For additional information please contact Leland Nelson at 717.232.4175 or Lisa Dunning @ 302.857.6905.
WHAT DO YOU THINK? SHARE A COMMENT BELOW.
__________________________
Visit FRANBEST's: Unbiased franchise information, franchise interviews and detailed, searchable information on 400 franchise and business opportunities.
.
Franchisees, customers & experts vote for their favorite new franchises at Top New Franchise: Who's hot. Who's not.